Modern kitchen cabinet is generally defined as products with simple, sleek, and angular designs. With a few knick-knacks, flat surface, and flush door. Many kitchen cabinets use solid wood, which actually expands and contracts.
Therefore, I prefer engineered wood for kitchen wall cabinets because they are known for being the most reliable and cheaper material. Below, we have compiled six best modern kitchen cabinets for you.
Walker Edison Modern Kitchen Cabinet Farmhouse Buffet
You will be complimented after adding this modern buffet table to your home. It's eye-catching because it uses a two-tone finish, which provides a fresh, modern accent to embellish a Rustic farm style home.
There are sliding slat doors that slide smoothly on both sides. Keeps kitchen items hidden on one side and open on the other. This wooden sideboard features adjustable shelves for organizing decorations, electronics, books, media, and more as needed.
Create an eccentric country house feel by placing it in the living room for an entertainment center. They can be used in the kitchen as a credenza and the bedroom for storage cabinets. Using high-quality MDF wood with durable laminate.
Walker Edison Modern Entryway Bar Kitchen
Shaped like a barn door, this 32-inch buffet table provides a charming rustic look with ease. Combines a rustic farmhouse style but remains modern. Create a traditional appeal for a stylish addition to the dining room or kitchen.
Sliding doors on both sides of the storage cabinet to create a closed and open storage space. Put in the bedroom as a storage cupboard, the entrance as an entrance table, the kitchen as a buffet, or a living room to put a television up to 34 inches in size or decoration.
Aesthetically manufactured from high-quality MDF wood grain with durable laminates and metal accents.
WE Furniture Modern Farmhouse Cabinet Storage
Bring a modern transitional aesthetic to your home with this kitchen buffet. Comes with mixed material design, this storage cabinet has both function and style.
Designed with sliding doors and glass panels. The best quality MDF construction and reinforced with laminates and metal accents to give a modern impression.
You can use them as television stands, buffet or storage cabinets in living rooms, kitchens, and even bedrooms. Perfect for storing your electronics, linens, accessories, or kitchen utensils.
Modern Innovations Stainless Steel Magnetic Knife Bar
This Knife Bar is a Modern Innovation that saves space. Even though it was created for kitchen knives, you can use this Modern product in your garage, warehouse, or workshop to store drill bits, wrenches, screwdrivers, and other tools.
It uses quality magnets and comes with hardware and some illustrated instructions that will make it easy for you to install anywhere. At the price offered, these magnetic knife strips offer more functionality.
mDesign Modern Plastic Water Bottle Holder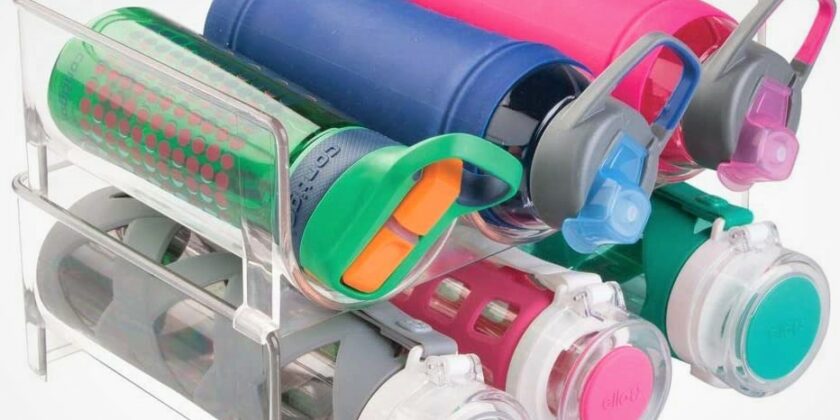 Each shelf can hold up to 3 bottled drinks, water bottle containers, water bottles, or sports drinks for a tidier kitchen. With their small form factor, they will keep your island, counter, cupboard, countertop or kitchen uncluttered, making them more eye-catching.
Bottles are stored upright or horizontally in separate compartments for easy access. You can stack these units to create vertical storage which will help maximize free space. Place in the refrigerator for fresh and chilled drinks.
It comes with a sleek and modern design to match any interior. It is perfect for sports enthusiasts or families on the go.
Simple Houseware Kitchen Cabinet Pan and Pot Organizer
Pan rack with easy and quick adjustable height. Allows you to store up to five pans at a time. Also, there is no special hardware so it does not require installation. You decide where and how to use this kitchen shelf.
These products using a sturdy steel construction plated with chrome so it looks very elegant. Perfect for any Cast Iron Griddle. The best feature is that the shelves are adjustable. Each shelf can be adjusted separately if you want to store pans of different sizes inside.
Conclusion
Make sure you take the help of leading suppliers and service providers of modern kitchen cabinet and revamp the entire appearance of your kitchen spending the minimum amount of money.